Park Sands Beach Resort, located in the heart of charming Parksville, BC, is a very special place. It's the kind of place that families love to return to year after year, generation after generation. This 100-lot family-run resort welcomes guests from all over the world to enjoy the natural beauty and hospitality of this beautiful seaside town. The Resort is known for its friendly staff and its cheerful motto: "Positive Vibes Only"!
Read on to discover if a trip to Parksville is right for you, and if so, if Park Sands Beach Resort could be the RV camping experience you're looking for.
What's Special about Parksville?
Pacific RV Ventures chose Parksville for our deluxe Resort Package because we have so many precious memories of this place. As a family-owned business, we wanted to give other families the opportunity to relax and play in this unique town, exploring all the sights, sounds and tastes it has to offer.
One of our favourite things about Parksville is the spectacular, well-maintained parks in the area. From wide, sandy beaches to forested trails, waterfalls, playgrounds, lakes, outdoor concerts and even horseshoe pits, there are plenty of outdoor entertainment options for everybody from toddlers to grandmas. (Click this link for a detailed blog post about our favourite parks.)
Parksville is also known for being a hub of family-friendly activities. Summer brings the annual Parksville Beach Festival, with its world-famous Sand Sculpting Competition & Exhibition, free Summer Concert Series, daily buskers and artisan market. There are two whimsical mini-golf courses, a local farm with a working cheese factory, a wildlife hospital, a butterfly greenhouse, a market with goats living on the sod roof and much more. (Click this link for our list of the best places to take your kids in Parksville.)
What's Special About Park Sands Beach Resort?
A quiet, community-minded resort

This resort is not for party animals! Rather, it provides a serene and family-friendly environment where kids, their parents and grandparents can gather together in an environment of safety and peace. Loud music is not permitted and quiet time is enforced from 11 pm – 8 am.
Right on the ocean
Fill your lungs with salt air and fall asleep to the sound of the waves. The resort is oceanfront, directly surrounded by the beautiful ocean boardwalk. Walk the boardwalk with your sweetie, challenge the kids to a sandcastle building competition, examine the tide pools for sea life or work on your tan on miles of soft grey sand.
Centrally located in the heart of Parksville
Located right next store to Community Park with its many sports facilities (including a beach volleyball area and skate park), playground, splash park and summertime food trucks, Park Sands is in an ideal location to access all Parksville has to offer. With Downtown Parksville just a few minutes' walk away, you can easily visit nearby restaurants, convenience stores, grocery stores, banks, thrift stores and gift shops without even getting in your car.
A sound bath spa
Something new and unique for 2022: Park Sands is offering guests the opportunity to soothe their nervous systems at the end of a busy day with the power of sound. Breathe your cares away surrounded by the healing waves of a Gong Bath and sound frequency healing therapy.
Art Fair By The Beach
Join Park Sands Beach Resort in 2022 for their first annual Art Fair By The Beach! Details coming soon. (Click here to RSVP.)
Store on site
There is a small store on the resort grounds with various goods for your convenience including fabric softener, toilet paper, hand soap, bottles of water, cans of soda, and ice.
Additional amenities
Free WiFi: 725MB of complimentary wireless internet per day
Year-round fully equipped washrooms with coin showers
Coin-operated laundry
Front desk service
Picnic tables
A Park Sand Guest's Experience
"We have been staying at the Park Sands RV and Camping Resort at least a couple of times each year, for many years now and we love it there! Everyone is so friendly. We keep seeing the same families and couples year after year each summer, so obviously we're not the only ones who love it there. It's a super mellow place to stay. Not snobby at all and super safe for kids. No one gets out of hand or rude and everyone truly runs on "Island Time"… Walking distance to everything, across the boardwalk from the beach, next door to the big community park with so many events all year long…who wouldn't love it there?"
How To Book Your Site
Because of its popularity, it's difficult to get a campsite in the resort without booking in advance (for 2022, July and August are almost completely booked). However, Pacific RV has a beautiful Grand Design Imagine travel trailer for rent in the resort, still with availability for weekly rentals. If you're looking for a last-minute vacation, surf on over to our Resort Package to learn more and request your booking.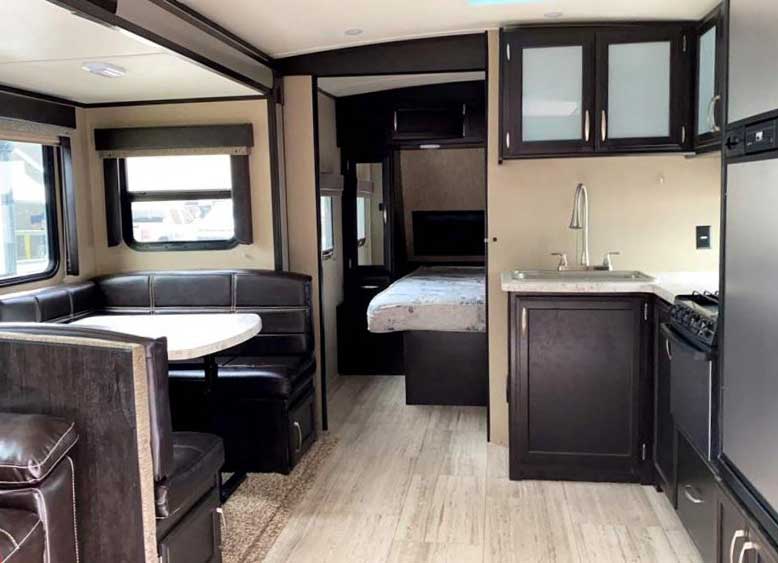 If you have any questions before you book, or just want to learn more about Parksville and the Park Sands Beach Resort, feel free to reach out to us. We'd love to hear from you!