Image: Coombs Old Country Market – the Roof Goats Credit: Alexander Pope
On first hearing, it does sound kind of silly. World-famous goats… on a roof? Once you've visited though, you'll understand the hype. The goats who munch the grass on the store's sod roof, as cute as they are, are only the first of Coombs Old Country Market's many charms.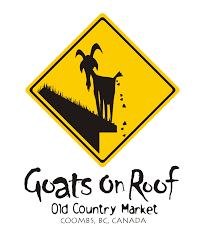 Located in the small community of Coombs, Vancouver Island, just 10km from the famous beachside community of Parksville, Old Country Market is a must-see for lovers of the eclectic and unusual. Even their logo (right) is firmly tongue-in-cheek. Over one million people visit the market every year to shop the dizzying variety of international merchandise (and possibly glimpse a rare goat "projectile" falling from the roof).
The market's Scandinavian vibe comes from its founders Kris and Solveig Graaten, the Norwegian immigrant couple who founded the market in 1973 as a simple roadside fruit stand. Next to be added was a burger stand, and in 1975 the couple and their sons completed their now-famous Scandi-style sod roofed building. The fateful decision to add goats to the mix was apparently made on a whim, and was only meant to be temporary – but visitors loved them so much, the Graatens decided to keep them as a permanent fixture.
Besides admiring the farmyard friends munching grass high above you, there is plenty to keep you and your kids busy at Old Country Market. Under the sod roof itself, you'll find a massive selection of delicious condiments and canned and packaged food from all around the world: from Mexican vanilla to Australian Tim-Tams; haggis-flavoured potato chips to saskatoon berry jam. There are also coolers, display cases and shelves full of international cheeses, various pastas, cured meats, exotic olives, locally-smoked salmon, fresh bread and much more.
Visiting children love the market for the ceiling festooned with bright kites and lanterns, the bins of unusual toys and games, the hot meals and the mouth-watering delicacies in the bakery window. Souvenir collectors will enjoy the fascinating assortment of local and imported pottery, clothing, home decor items and other giftware. Gardening aficionados can explore an outdoor courtyard full of huge pots and interesting statues. There's truly something for everyone here!
Visitor Tips From a Local
At peak times it can be impossible to find parking and just as impossible to move around the market. Plan your trip for the morning, preferably on a weekday, for a less-harried browsing experience. If you hate crowds, avoid weekends – especially long weekends – at all costs.
If you're arriving in your RV, we suggest not attempting to park in the parking lot at all, especially if it's busy. It can be very difficult to maneuver. Instead, park on the highway out front.
The market is a popular tourist destination and is priced accordingly. While there are definitely some deals to be had (the huge bottle of Mexican vanilla, for example, is a bargain), plan to shop for specialty items and souvenirs rather than doing all your regular grocery shopping.
That said, the produce market next to the sod roof building has an abundance of beautiful local produce, often at very reasonable prices.
The market does not have a microwave and will not heat cold deli food – such as meat pies – for you. They do serve hot food as well, though, such as burgers, fries with gravy and fish and chips.
While you're there, if you still have room, do yourself a favour and check out Billy Gruff Creamery & Bistro for its house-made ice cream and authentic Italian gelato. And why not pair it with a fresh donut from Billy G's donut shop? With unique flavours like Maple Bacon and Nanaimo Bar, you might need to try more than one!
The Coombs Old Country Market is open daily from March to December.
Website: https://oldcountrymarket.com
Google Map: https://g.page/goatsontheroof?share